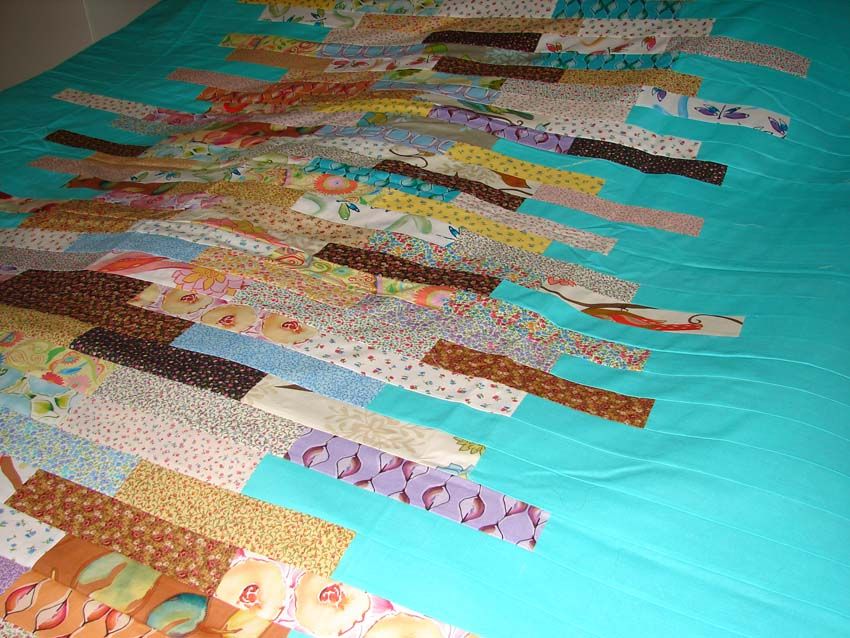 (tweetalige post / bi-lingual post scroll down for English)
Deze quilt is een grote verrassing geworden. Letterlijk. Want in plaats van een bankhangquilt is het een 2-persoons-bed quilt geworden. Behalve groter dan gepland, tjonge jonge wat een rekenfout, is hij ook leuker dan gepland dus ik laat hem zoals hij is. Hij was ook te groot om in zijn geheel fatsoenlijk op de foto te krijgen zonder quilt-ophouder oftewel echtgenoot in de buurt. Zo leuk om deze top in elkaar te zetten, eerst de kleine stukken tot langere stukken en dan de lange stukken aan elkaar. Ik houd ervan het is als vakantie voor het brein.
Als achterkant heb ik een eenvoudig katoentje gekozen, geen quiltkwaliteit maar dichtgeweven katoen. Het doorquilten zal een uitdaging worden. Het was de bedoelingom deze quilt te gebruiken als sampler om verschillende steken en motieven op de machine te oefenen maar ik denk niet dat het huidige formaat dit toelaat in combinatie met mijn gebrek aan ervaring. Heeft iemand suggesties, hints en tips? Ze worden zeer op prijs gesteld.
Deze post wordt toegevoegd aan de Scraptastic Tuesday linky party van
Leanne van She can Quilt
en
Nicky van Mrs Sew and Sow
Uitdaging van 2015 ... leren quilten op de naaimachine.
This quilt is turning out to be quite a big suprise. For one it was supposed to be smaller. Lapsize instead of the queen size it is. Quite a big mistake in math but I refuse to make it smaller because it is also prettier than i thought it would be. Also it was too big to take a decent picture of it without a quilt-holder-upper aka husband to show its full size. It was great fun to sew the short strips into long strips and then the long strips together. I love this kind of sewing it is like vacation for the brain.
I chose a simple cotton for the back, love these kitties. It is not quiltingquality but a good quality cotton. The quilting will be quite a challenge. I am new to machine quilting so i will have to figure out how to do this. The original thought was to use this as a sort of machine-quilting-sampler. To try out different motifs and techniques but i don't think the size will allow that in combination with my lack of experience. Suggestions, hints and tips anyone? They'll be much appreciated!
Challenge of 2015 ... learn to machine quilt.